It's Blogmas Day 3!! And today I will be discussing my favorite winter comfies, all the things I need to stay warm and comfy during the cold months. So here in Georgia, it's a little early for the wintery weather, but it's nice to come home from work and put on my comfy robe and slippers and watch the Gilmore Girls on Netflix.
I bought this robe from Kohl's a month or so ago in the men's department, and it's everything! So soft and warm, and it washes well. I bought the navy stripe pattern. And it's currently on mega sale at Kohls.com.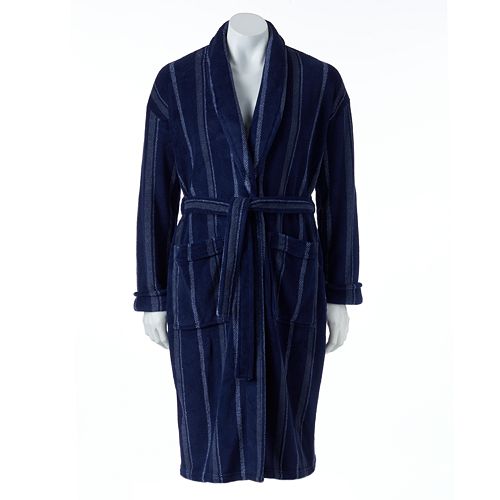 The robe pairs nicely with pair of slippers from Target that I can wear to take the dog to the bathroom or just hanging around the house.
Another cozy item is a recent purchase from Big Lots: this blanket (only can be purchased in store for $18). The sherpa lining is soft and also washes really well! While being warm and snuggly in my robe and blanket, obviously I am watching Gilmore Girls on repeat. I'm literally rewatching all the seasons over again. You can't deny your excitement for the future episodes coming to Netflix!
My favorite warm drink, besides coffee…duh, is tea. If you don't know, I have a serious addiction to caffeine. Being a professor and a graduate student, I need a lot. And tea usually doesn't cut it for me, but I have been enjoying one (or two) cups of tea a day while getting ready in the morning or working at my computer. My current favorite is good ol' Twinings Breakfast Tea (in the green packets).
When getting ready for bed to prep my skin for the coming dryness in the dead of winter, I like to use three products to moisturize my skin.
1. Nivea Lip Butter in Raspberry Rose Kiss…and let's be honest, the packaging got me on this one, but it actually is a great product to keep my lips from getting dry and gross.
2. Josie Maran Whipped Argan Oil Body Butter in Vanilla Apricot provides moisture along with a rich decadence that comes with this pricy body butter. However, it makes sliding into the cool bedsheets a little nicer.
3. Lastly, First Aid Beauty's Facial Radiance Overnight Mask…OMG! The best thing since sliced bread. I bought this following a recommendation from A Little Bit etc. This stuff is ah-mazing. It provides moisture while making my skin have such a nice, natural glow without becoming greasy on my oily-prone skin.
I hope you enjoyed this peek into my relaxation must-haves during the cold, winter months. What are you comfy must-haves and dry skin fighting necessities?